Our new release VIMP 5.5 offers you a completely new video editor, the integration of group roles and a significant improvement in performance as well as other useful optimizations. Read below what has changed.
The new VIMP Video Editor
VIMP 5.5 includes a completely new Video Editor, which gives you the possibility to edit uploaded videos even more professionally within VIMP from now on – similar to the basic functions you know from standalone video editing programs.
The new Video Editor offers you convenient ways of cutting and merging videos. You can organize your project into several tracks and save it at any time until it is ready.
The new Video Editor is available to all users who have been assigned the necessary permissions via the roles and rights management. This allows you to define exactly which user roles should have access to it.
In the course of further releases, we will successively expand the functionality of the Video Editor.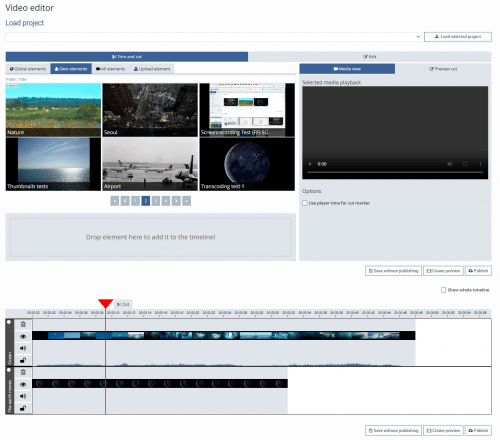 Performance enhancements
Through various optimization measures, the page load time could be improved by up to 50%. Your content is thus loaded and displayed significantly faster, which not only has a positive effect on usability, but is also positively perceived by search engines.
Roles for group members
Analogous to the channel roles, VIMP 5.5 gives you the option to assign roles for group users as well. This allows you to assign members, for example, administration rights or further roles with graduated permissions, which allows you to divide responsibilities among several users and further improve collaboration in your groups.
Optimizations in accessibility and usability
With VIMP 5.5 you get a number of improvements in various areas. Particularly noteworthy in our new release are the further accessibility and usability optimizations, further enhancing the VIMP experience for all your users.
Approval list with all open media
In addition, authorized users now see a clear list of all media to be released in the frontend. This list is activated via the roles and rights management in the administration area. As soon as media are available for release, a new icon appears in the header bar in your VIMP platform, which can be used to call up the list.

Further innovations and important notes
The complete list of changes can be found in our VIMP 5.5 changelog.
All technical innovations of VIMP 5.5 are explained in this article.
Read more about the complete list of new features in our Release Notes or contact us with any questions via our contact form or by phone at +49 (0) 89 1200 1020.